2004:
Lake Elmo, MINNESOTA - October 18 (?), 2004  (corn/maize)
37 x 40 ft. oval in 8 ft.-tall corn, all plants laid in same direction. Corn rows planted E/W, stalks flattened N/S across rows. Plants bent over (not broken) flat to ground w/no sign of entry. "Brilliant" light-flash seen 3 nights earlier. Blackened ("burned") stalks perhaps due to Ustilago (http://www.bltresearch.com/labreports/mission1.php).
Miamisburg, OHIO -  September 1, 2004  (corn/maize)
One of the most intricate formations yet seen in maize in the U.S.; overall length 222 ft. Ground photos show crop was about 5 ft. tall, most stalks laid clockwise w/thin "curtain" of standing plants along edge of larger interior circle. Neighbor reports her dog was "barking & biting at the air" as if disturbed when they went into field.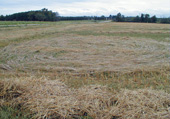 Wausau, WISCONSIN - August 23, 2004  (barley)
Six circles ranging in size from 19 ft. 4 inches to 38 ft. in diameter found a few days after multiple UFO sightings in area. Farmer reports counter-clockwise lay in all circles; a pre-existing pathway into field lies under the centers of 3 of the circles, ending in exact center of 3rd circle in row. TV crew lost audio while filming on 8/26/04.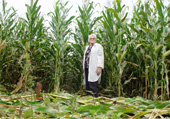 Ozark, MISSOURI -  August 14, 2004  (corn/maize)
Two 40 ft.-diam. circles in 8′-tall corn found in hard-to-access field. Stalks laid clockwise & extremely flat–apparently laid from perimeter into the centers. Many stalks had "cuts" through first nodes above-ground (not "brittle-snap"). Aberrant cell-phone activity & very strong energy effects reported by fieldworker (totally atypical for her).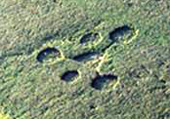 West Union, OHIO - August 10, 2004 (soybeans)
An ungainly-looking group of circles arranged more or less in a triangle pattern, with an actual triangle flattened in the center. Some plants damaged & wilting, but many showed undamaged stems with intact "hairs" on stalks. A neighbor reported a "humming" or "buzzing" noise, "burning" eyes and a smell like chlorine bleach.
Cottage Grove, MINNESOTA -  July 24, 2004 (oats)
Five slightly elliptical 27-30 ft. diam. circles swirled flat to the ground in dry, fully mature crop ("thought bubble" design). Farmer states flattened plants were "bent over" at the roots (not broken) & he saw no path into densely-planted & very dry field. Field harvested before field-team could get there, but marked increase in magnetic material found.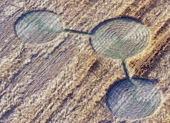 Tilden, WISCONSIN -  July 16, 2004  (oats)
A 64+ ft. center circle connected by pathways to 55 ft. & 53+ ft. circles (randomly-downed areas caused by storm before aerial photo taken). No elongated nodes, expulsion cavities or magnetic material found. An underlying 8-inch-wide path connected the circle centers. No sign of entry into very densely-planted field when first found.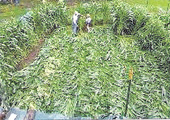 New Milford, CONNECTICUT -  July 13, 2004  (sweet corn)
Five rows of 5-1/2 ft. tall corn flattened hard to the ground, all in the same direction & bent over at base.  Downed area begins 2 rows inside still-standing edges and is also bordered by still-standing rows. It was later determined that owner had applied a bit too much ammonium nitrate (fertilizer).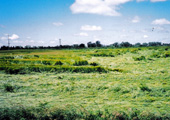 Litchfield, MINNESOTA -  July 11, 2004  (barley)
An extensive area of randomly-downed crop in numerous patches alongside road. Local meteorologist felt downing was most likely due to heavy storms in the area but did report that the plants were bent (not broken) at the base & what he believed to be apical node elongation was also present.  No samples taken.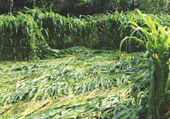 Hillsboro, OHIO -  July 5, 2004  (corn/maize)
A 30 ft. by 20 ft. roughly oval area of flattened sweet corn found in a small garden after a storm.  Stalks all downed in one direction, but beginning inside a still-standing edge. Local meteorologist states that in his opinion weather, pesticides, insects, animals and/or mechanical flattening not responsible.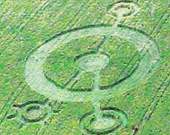 Spanish Fork, UTAH -  June 26, 2004  (barley)
Four ringed circles & assoc. pathways, center ringed circle 118′ diam., overall length 207′. Multiple reports of unusual behavior in cattle, dogs & cats the night before formation found, BLT fieldworker & landowner both reported "aching" or "burning" in lower legs after being in formation. Owner saw no sign of entry. Many incidents of camera & cellphone failure; aerial light phenomena also reported.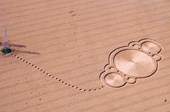 Solano County, CALIFORNIA -  June 17, 2004  ("bearded" wheat)
A 300′ 11-circle "pictogram" style formation with an 185′ long "tail" made up of 28 evenly-spaced 6′6″ diam. circles which ended next to two high-tension electric transmission towers (extreme left, photo). No evidence of entry was visible when first found.  Field was cut before fieldwork could be carried out.
Peach Orchard, ARKANSAS -  May 24, 2004  (wheat)
A 14′ downed center w/8-1/2′ standing ring; overall diam. 166 ft. Downed center-area plants laid clockwise, perimeter ring counter-clockwise, & all "arms" laid into the center, with a "rippling" lay. Wheat densely planted-no sign of entry when found. Very dry plants were not broken.  Three perfectly intact bird's nests found in flattened crop.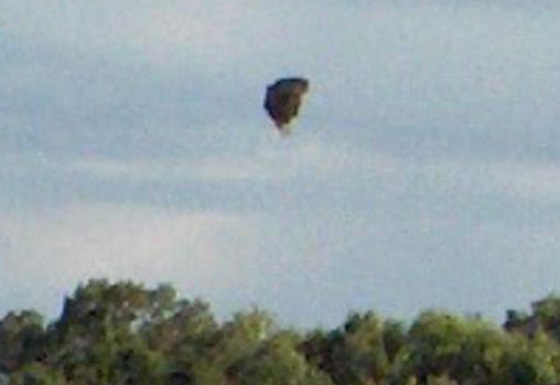 Grand Bend, Ontario, CANADA - August 13, 2004  (wheat)
Strange object photographed over field in which four interlocking circles (diameter approx. 120 ft.) were first discovered on July 21, 2004.  The 2004 formation was very near another which appeared in 2003 at Hensall, Ontario.
USA-Previous Years

BLT Research Team Website Links