2010: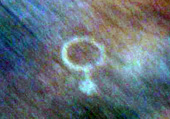 Ontario, NEW YORK - October 2, 2010 (Purportedly Soybeans) Reported on October 2nd, but possibly present for some time before, this small "dumb-bell" style formation in Wayne County is the only "geometric" crop circle reported in North America in 2010 which may have been genuine.  Ground shots taken after harvest show no helpful details.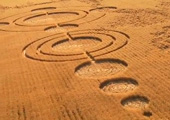 Bakersfield, CALIFORNIA -  June 22, 2010  (mature wheat?)
Long '90's-style "pictogram" first reported via a YouTube video as being in Monterey County, south of Salinas.  Actually a man-made formation created for a rock group.  A still shot shows large areas of randomly-downed crop near the circle, as is often the case in fields where non-mechanically-flattened formations have appeared.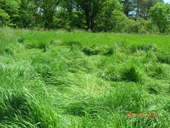 Woodstock, VERMONT -  June 1, 2010  (field grasses)
Area of randomly-downed plants found in same field as last year, with additions occurring over several days.  Flattened plants show a markedly "fluid" lay, with multiple small swirled patches & some standing centers.  Downed plants had distinct bending at multiple nodes on first day.  No storms reported during relevant time-period.No storms.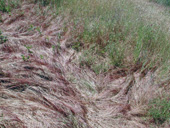 Hidden Valley, CALFORNIA -  early May, 2010 (grasses)
Witness reports many bright white & golden lights "zig-zagging & soaring across sky" in early morning hours, over many nights in same area.  In mid-May witness found multiple small "crop circles" all over the valley.  Fieldwork showed these to be somewhat circular flattened areas in which anthocyanin pigment was evident.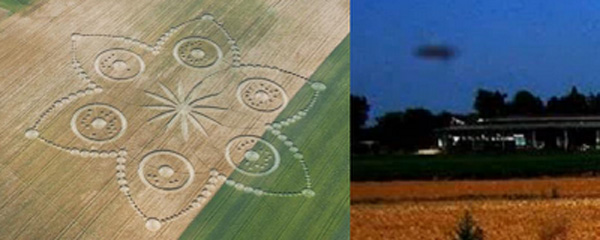 Poirino, Torino, ITALY - June, 2010. The largest (approx. 150 x 150 meters) and most elegant crop formation yet to appear in Italy was this lovely "flower" design reported on June 13th which crossed the boundary between 2 different crop fields.  A dark disc-shaped aerial object was seen and photographed over the formation later in the summer.  [For crop circle web-sites in Italy (and other countries) see the BLT web-site's "General Links" section.]
USA-Previous Years

BLT Research Team Website Links