2012: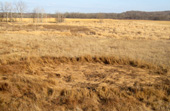 Luck (Polk County), WISCONSIN -  mid-Oct, 2012    (grasses)
Discovered in a rural NW area, a 30-40 ft. diam. circle with a chaotic, swirling interior lay and with the tops & seedheads of the plants along the rough perimeter cut off as if by "something sharp."  No cut stalks inside circle. Landowner reports observing "unusual aerial craft" on 3 occasions (which events she seems to associate with this circle).
Chillicothe, OHIO -  early- to mid-September, 2012  (corn)
Found in a field just W of Hopewell Indian Mounds Archaeology Park in south-central Ohio, this 36-circle, 7-ring, 350′ diameter formation apparently appeared 1-2 wks. before it was reported on the 20th. Field is an old channel of Paint Creek (which now borders field) and is crossed by high-tension power lines approx. 300+ yds. from circle.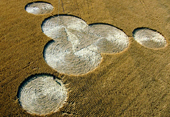 Wilbur, WASHINGTON -  July 24, 2012  (winter wheat)
Six circles (45′-65′ in diameter) with a triangular center section. Third circle near Wilbur (5 mi. N) in recent years; no tram-lines & no entry tracks seen in field at discovery. Very dry crop was not crushed as it would be if mechanically flattened. The '07 Wilbur cropcircle plants showed classic plant stem node changes indicative of authenticity.
St. Louis, MISSOURI - March 25, 2012  (trees)
Aerial photo submitted showing multiple circles of various sizes and several "flower" designs in a forested area. Investigation revealed that a large-scale, long-term Ozark glade restoration project is underway at the Tyson Research Center by Washington Univ. students. Trees had been cut and areas will then be burned regularly to evaluate effects.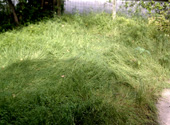 Austin, TEXAS - March 20, 2012   (grasses)
Two areas of chaotically-downed grasses found in yard after thunder-storm during which a nearby tree was struck by lightning.  Metal fence near tree and around yard most likely conducted electric charge from lightning strike to grasses; photos submitted show what looks like charring of one plant, node bending in others.  Not a crop circle.
Bizarre image captured by Robbert v/d Broeke in a Dutch crop circle on September 15, 2012.  Robbert was using a Dutch TV producer's digital camera and was being videotaped simultaneously by the TV technical crew as he took this and one other photo of what appears to be the same "creature."  No one present (including Robbert) saw this "creature" with their eyes–it only appeared on the TV producer's digital camera while Robbert was using it.  See Part 2 of the 5-part BLT report for full details: www.bltresearch.com/robbert/dutchoverview2012. php.
USA-Previous Years

BLT Research Team Website Links