2013: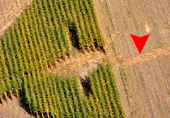 Sheffield, MASS - Early-Sept, 2013  (Field Corn)
Found at harvest Sept.25th, an approx. 6′-wide bare oval spot inside a 33′-long oval of flattened maize w/4 pathways "like a cross" extending precisely E/W & N/S. Southern path (arrow) cut by harvester. Exact field over which farmer & sister saw "greenish 1/2-moon shaped 12′ diameter UFO" in 1986. Multiple EM disturbances ongoing on farm.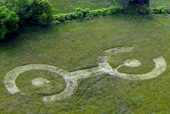 Gray, TENNESSEE -   May 13, 2013   (hayfield)
In N/E Tennessee (nr.Johnson City, just S.of VA border), 140′-long circle w/2 "half-moons," each encircling small circles & connected by path–reported as showing no footsteps/tracks into field when found. In same town a "40-50 lb" chunk of white "meteor ice" fell 3 days earlier–creating a 1-2 ft. diam., 4-6 inch deep crater. (??)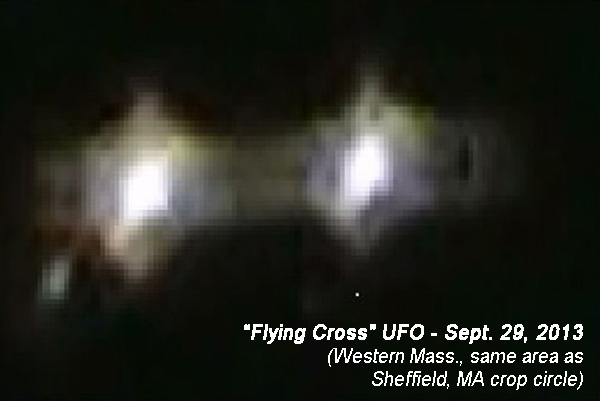 Photo of a UFO over Dalton, Massachusetts on September 29, 2013, described by that witness as looking like a "Flying Cross" — curiously the exact description provided by other witnesses of a UFO they saw flying over (and in one instance, on September 5th, "touching down in") the field where the September 25th Sheffield, MA crop circle was discovered during harvest.  The Sheffield crop circle (see listing above) has "cross-bars" going through an oval center, much like a Celtic Cross.  Dalton is not far from Sheffield in western Massachusetts, close to the NY & CT borders.    Photo: S. Delmolino.
USA-Previous Years

BLT Research Team Website Links